CERTIFICATIONS
WNS Lowery's internal quality assurance provides the processes and guidelines for consistent performance. Our castings are made to exacting industry specifications and pressure ratings. All raw materials are inspected to meet critical metallurgical specifications, machining is inspected for precision dimensions, and pressure testing is performed according to industry standards.
Each product is covered by a limited one-year replacement guarantee.*
* Every WNS Lowery product is warranted to be free from material and manufacturing defects, and will be replaced without charge should failure occur within one year after date of shipment. WNS Lowery makes no other warranty, either express or implied. Our liability is limited to our sale price of the particular product. In no event shall WNS Lowery be liable for any consequential damages.
API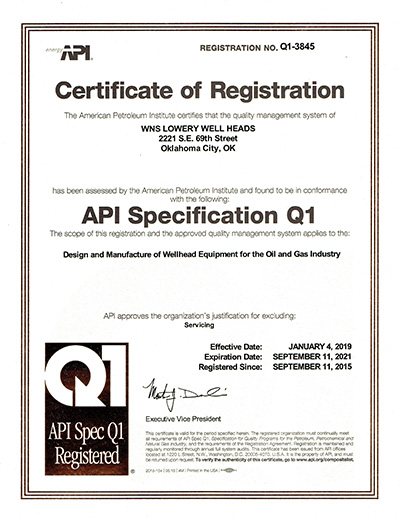 Since 1989, API's Individual Certification Programs (ICP) have provided the petroleum and petrochemical industries with an independent and unbiased way to evaluate the knowledge and experience of technical and inspection personnel. These certification programs are based on the industry-developed standards that are recognized and used with confidence worldwide.
ICP testing, developed in partnership with industry leaders, confirms that certified inspectors and personnel will demonstrate competence in content areas that are relevant to their practices.
ISO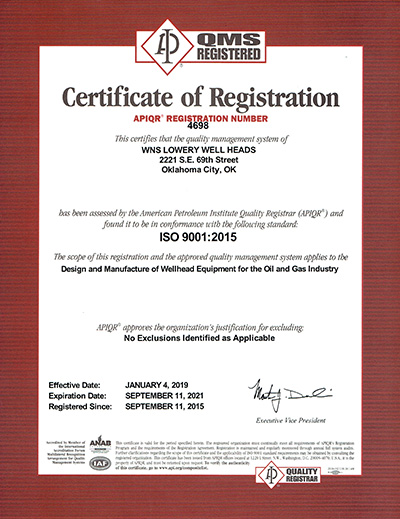 ISO 9001 is defined as the international standard that specifies requirements for a quality management system (QMS). Organizations use the standard to demonstrate the ability to consistently provide products and services that meet customer and regulatory requirements. It is the most popular standard in the ISO 9000 series and the only standard in the series to which organizations can certify.